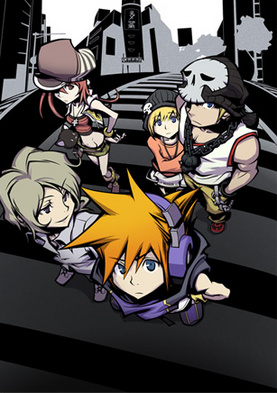 Neku Sakuraba
- Neku is a fifteen year old boy. He is antisocial and doesn't care much for other people. Also, he is never seen without his headphones on except for a brief moment in the opening sequence.
Shiki Misaki
- Shiki is a fifteen year old girl. She loves fashion and clothes, and has a nice and friendly attitude. She carries her homemade stuffed animal "Mr. Mew" with her everywhere.
Joshua (Yoshiya Kiryu)
- Joshua is a fifteen year old boy. He is sly and clever, but likes to tease people a little bit. He knows a remarkable amount of information about the Reapers' Game.
Beat (Daisukenojo Bito)
- Beat is a fifteen year old boy. He acts tough in front of others, but is friendly and open. He is Rhyme's older brother.
Rhyme (Raimu Bito) -
Rhyme is Beat's partner. She is very supportive and encouraging, and likes to use adages to motivate and cheer people up. She is Beat's little sister.
Plot Questions:
What was Neku's last entry fee on his gun showdown with Joshua on the final day?
Possible answers:
Neku's bullet, as Joshua won the battle.
Beat and Shiki, as they became sessile after Joshua said "They'll do" before the fight.
Neku's friendship with Joshua.
How do Support Reapers and Reaper officers earn Score?
Harrier Reapers earn score by Erasing players, but how do Officers or Support earn Score? It cannot simply be by erasing Players any more, because the Conductor doesn't engage players, and the Game Master only gets to engage the strongest players on the final day of the game. And Support Reapers don't attack players, they only put walls and conditions to open them
Possible answer: it could be that by working for the Conductor or the Composer, Officers earn points by completing tasks, or playing games (like the Composer did with the Conductor). This is very plausible since Support Reapers can't get points by erasing Players too, and it is supposed they must get points somehow.
Do Reapers age?
It is stated that the Composer is much older than what he looks like when he downs his vibe. But do Reapers age, the same way as if they were alive? Even the Conductor does not seem to be too old, and he is supposedly the most veteran Reaper.
Possible answer: There's one Secret Report where it says that once a Player who has won the Game chooses to become a Reaper he gains uncredible strength and a expanded lifespan (determined by the amount of points he gets). So it is possible that time doesn't act the same way to Reapers than to humans. This has even more proof if we think about the conversation between Harrier Reapers Koki Kariya and Uzuki Yashiro in which Kariya calls his partner "spring chicken" even when she has been being a Reaper for two years. In fact she also questions Kariya about how much time has he been working as a Reaper and he merely answers "Meh, details".