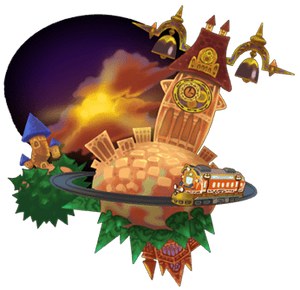 Market Street
Market Street is easily the largest area of Twilight Town, and is what is most commonly referred to as Twilight Town itself. Market Street is a long, winding, steeply-sloped road that leads from the lower areas of the city to Central Station. The upper portion of the street is known as Station Heights. There are a few shops at Station Heights, including an item shop run by someone familiar to Final Fantasy X fans.
Central Station is a large train station that leads all over the world, including other districts of the city and The Beach, which is never visited in-game. It rests in a large open area called Station Plaza, and is roofed by the town's distinctive Clock Tower.
The lower portion of Market Street is Tram Common, an open-market area with a free tram circling around. Many shops are found here, including the accessory shop and armor shop run by familiar faces to Final Fantasy VII fans, and a synthesis shop owned by Elmina the Moogle. It appears to be the location of many homes as well. Both parts of Market Street connect to The Sandlot, the area where the infamous Struggle battles take place, and to the Back Alley and Hayner's gang's hideout, The Usual Spot. It is implied that Roxas's house in Simulated Twilight Town is above The Usual Spot.
Sunset Terrace
Another district of the town, Sunset Terrace, can be reached by taking the train at Central Station to Sunset Station. Connecting to Sunset Terrace is Sunset Hill, where Roxas spots the mysterious Ghost Train on the fifth day. Sunset Terrace is eventually joined to the Market Street areas through the Underground Concourse, which finally opens the last time Sora and his party visit Twilight Town.
The Mysterious Tower
The final part of Twilight Town is the Mysterious Tower. It can only be reached by the Magic Train that appears in Central Station. Little is known about this area, other than that Yen Sid chose it to build his tower and to train King Mickey. It is also accessible to Pete, along with his Heartless minions. Later in the game, after Yen Sid departs, many Nobodies can be found in the tower. This location was later revealed as a new world in Kingdom Hearts Birth by Sleep. The new world is called Mysterious Tower, and it has been seen that the King was training with Master Yen Sid in the Sorcerer's Loft.
Other Areas
Apart from the main areas of Twilight Town, there are also several unclassified areas. These include The Woods beyond the borders of the town (accessible only through a break in the wall of Tram Common), The Old Mansion that lies within it, and the Underground Concourse, a series of interconnected tunnels that leads to almost all areas of Twilight Town and entrance to the tunnels from the Sunset Terrace.